What if you had a playbook that outlined how to get to Net Zero?
3 min read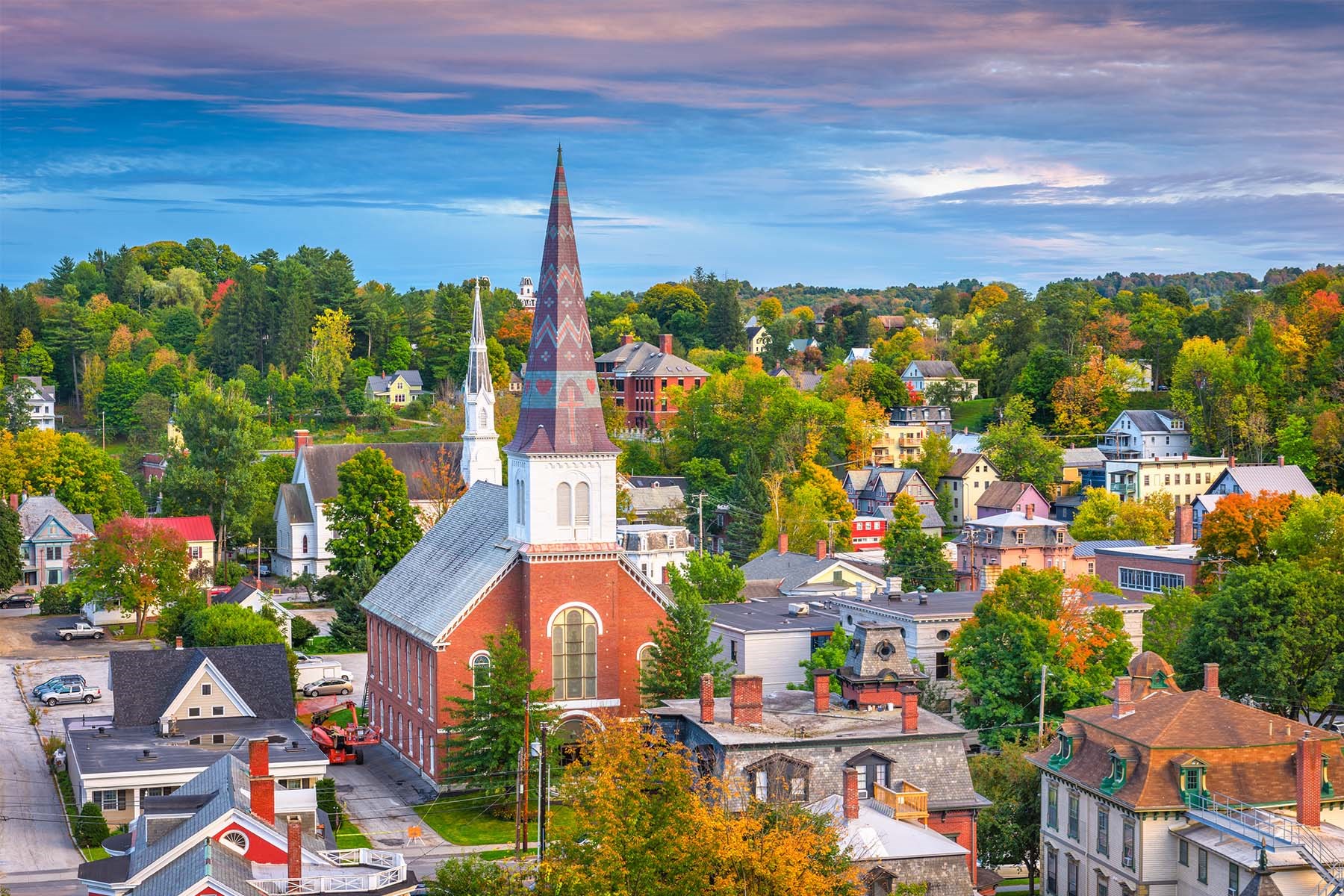 The Challenge
The City of Montpelier resolved to eliminate or offset the use of fossil fuels across its buildings, operations, and fleets by 2030. Having completed several projects that made a big impact, city leaders needed a detailed plan to ensure that their next steps would add up over time and ensure the City achieved its goal without breaking the bank.
The Solution
Working with numerous stakeholders, VEIC assessed the City's total energy use and developed a comprehensive plan that included energy efficiency, renewable energy, heating, and clean transportation. From a range of possible scenarios, VEIC identified the optimal path for achieving the City's net-zero goal using cost-effective approaches. Services: Transportation Electrification , Building Decarbonization , Energy Efficiency
The Impact
Montpelier's Net Zero Action Plan provides a step-by-step playbook to dramatically reduce or eliminate fossil fuel across all city operations. It only includes measures that generate enough in energy savings to pay for themselves, so the City can begin implementation immediately. Already a clean energy leader, the City is poised to reduce greenhouse gas emissions by an additional 829 metric tons per year over the current business-as-usual forecast.
Leading the way with ambitious climate targets
As organizations move to reduce their reliance on fossil fuels, they face what can be an overwhelming array of possible approaches. In a rapidly evolving clean energy landscape, it can be hard to know which steps will produce the necessary decarbonization results and how long it might take before investments pay off in reduced energy costs.
Beginning in 2014, the City of Montpelier adopted the goal of eliminating or offsetting the use of fossil fuels from City-owned buildings, vehicles, and operations by 2030. Aiming to become the nation's first Net Zero capital city, Montpelier took steps right away to cut its fossil fuel use. City leaders invested in a district heating system, installed solar arrays, installed an anaerobic digester at their wastewater treatment plant, and converted buildings to wood heat and heat pumps. These efforts earned national recognition, but city leaders wanted to be sure they were on track to get the rest of the way to Net Zero on time and in a cost-effective manner.
"When the City adopted a net zero energy goal for its internal operations, we didn't have a clear vision of how we would get there. We knew it was important, but between City staff, the council, and our energy committee, we lacked the expertise to generate a plan for achieving that goal. The Action Plan that VEIC created for us provided that much-needed guidance. We now have a prioritized road map, complete with cost estimates, that is guiding our next steps. Since receiving the Action Plan, the council has already taken its first steps toward implementing its suggestions. VEIC has played a crucial role in moving the City toward carbon neutrality."
Charting an affordable path to Net Zero Energy
For every organization, the path to eliminating fossil fuels will be unique. The City of Montpelier has a vision for evolving its energy use and, through a competitive bidding process, chose VEIC as a partner to bring that vision to life. With comprehensive energy experience, VEIC served as a one-stop shop for developing an integrated energy plan with a clear, actionable timeline and reliable cost estimates.
The first step was to know the City's starting point. Working closely with stakeholders from several City departments, the School District, and the Montpelier Energy Advisory Committee (MEAC), VEIC compiled data from all sectors to generate a total energy picture. This baseline analysis showed that buildings comprised the largest category of continued fossil fuel use, followed closely by the fleet of municipal vehicles. If the City took no further steps toward net zero, only 55% of its energy needs would be met by renewable sources in 2030.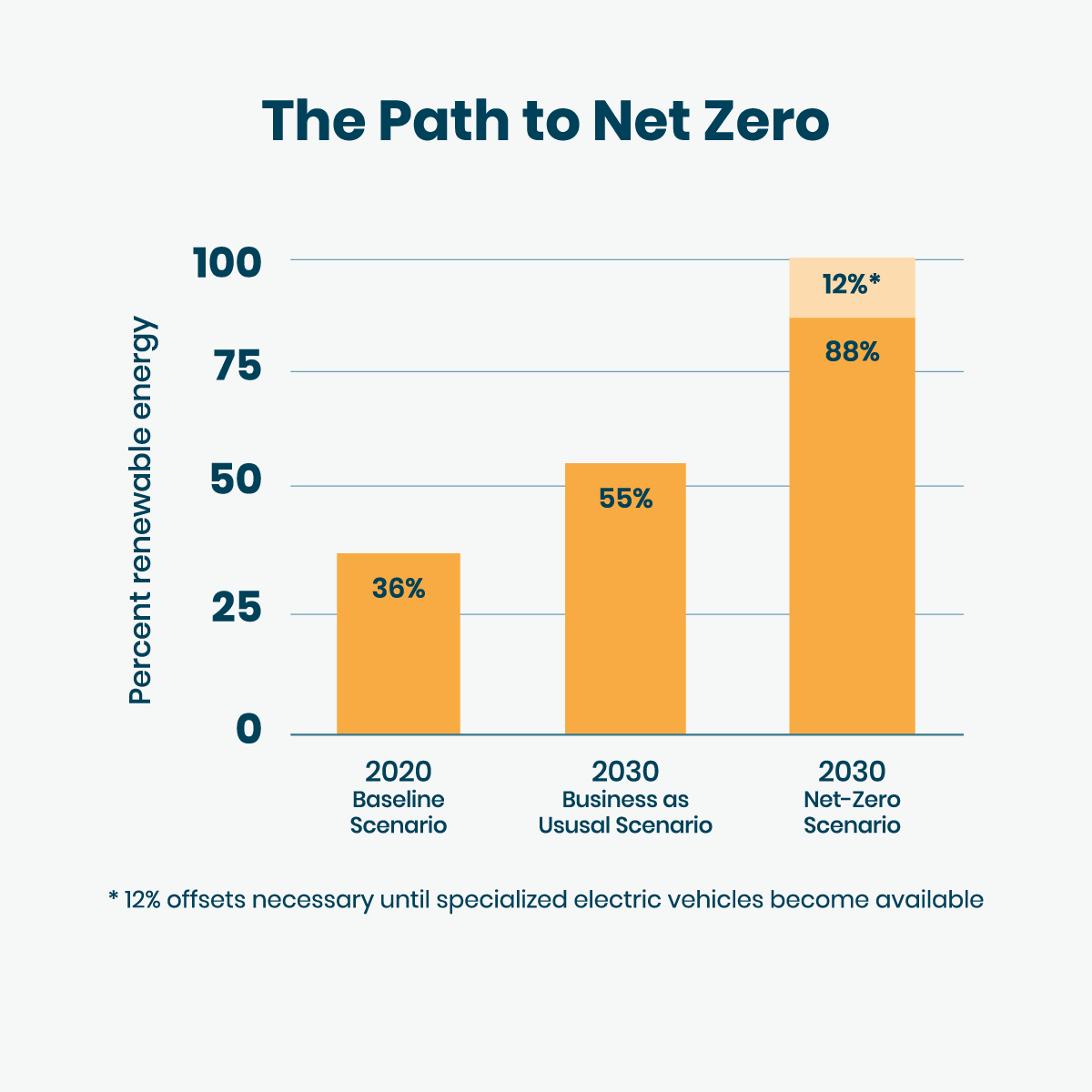 To push that number higher, the team identified and assessed the wide range of efficiency and fuel-switching options that the City of Montpelier could pursue to replace as much of its current fossil fuel consumption as possible. Financial analysis determined which measures would generate enough savings to exceed the investment cost. Where financially viable options didn't exist, the team estimated how much additional funding would be required. In the end, the City of Montpelier can cost-effectively reach 88% renewable energy by 2030. Until there are sustainable options for some specialized equipment like dump trucks and street sweepers, fossil fuels will continue to be required and Montpelier will need to purchase offsets to achieve Net Zero.
Customized planning to achieve results
Montpelier's customized Net Zero Action Plan provided a realistic pathway to achieving the City's 2030 Net Zero goal. It identified existing technological and financial challenges as well as options for overcoming those. Guided by a data-driven plan, Montpelier can make confident energy choices, setting an example for others as it moves assuredly toward its fossil-free goal.