What does it take to deliver beneficial electrification to income-qualified households?
3 min read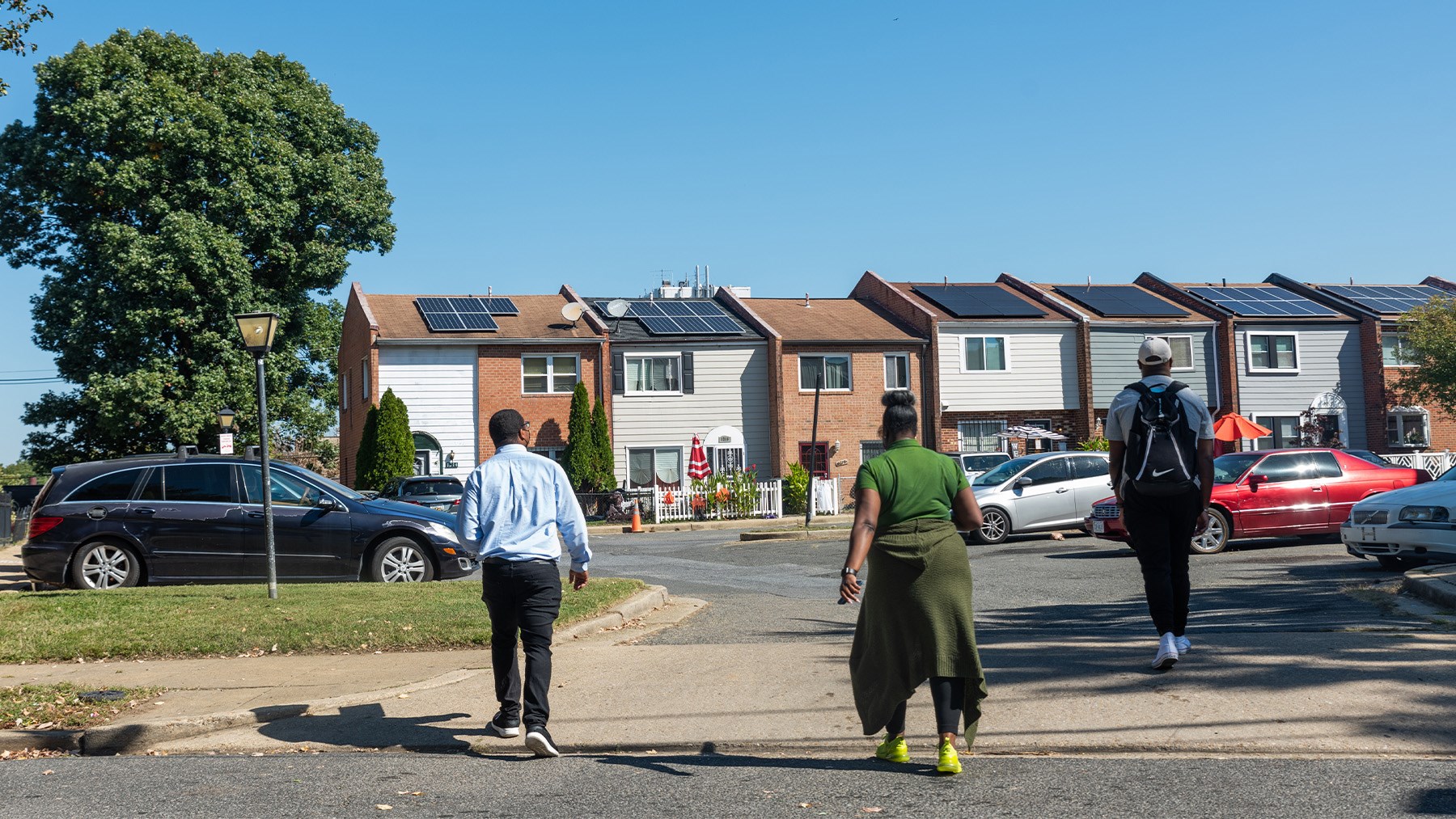 The Challenge
It can be difficult to convert aging housing stock from fossil fuel systems to high-efficiency electric ones, particularly in low-income communities. To meet its ambitious climate and greenhouse gas (GHG) reduction goals without leaving low-income residents behind, the District of Columbia needed to dig in and understand what it would take to electrify its aging residential building stock.
The Solution
A pilot project tested comprehensive approaches to beneficial electrification with installations of heat pumps for HVAC and domestic hot water, as well as weatherization, solar, electrical panel upgrades, and the option to replace gas-powered appliances. Services: Building Decarbonization , Energy Efficiency
The Impact
Insights from this pilot have helped refine and improve ongoing delivery of beneficial electrification in the District, especially for residents with low incomes. Phase two of the pilot is bringing beneficial electrification to low-income single-family homes in DC, and insights from the work can now inform electrification initiatives in cities and states across the country.
The Challenge of Residential Fuel Switching
In 2018, the District of Columbia adopted some of the country's most comprehensive clean energy policies including targets for renewable energy generation, green jobs, and building energy performance. Switching residential buildings from fossil fuels to clean electricity is an essential step in achieving the District's decarbonization targets. And it won't be easy.
Together, single-family homes and multifamily buildings with four or fewer units comprise the District's third largest energy user. In 2019, there were 94,232 housing units in this category with 74 percent of them relying on natural gas for hot water and for heating, ventilation, and air conditioning (HVAC). Only office buildings and bigger residential buildings have higher emissions.
The challenge is not only the sheer number of housing units, but also the fact that much of DC's housing was built prior to 1935. Historical dwellings can often require structural changes such as upgraded electrical service before being able to switch away from fossil fuels. To tackle the problem head-on and mobilize resources effectively, the DOEE needed to understand what it would take to electrify the District's homes.
"The DCSEU has been a terrific partner on the Low-Income Decarbonization Pilot. With deep community ties and expertise in program design and implementation, they were able to safely conduct the pilot study during the COVID pandemic. The insights they gleaned have been invaluable in shaping our ongoing efforts to decarbonize DC's residential buildings."
Bringing Beneficial Electrification to D.C. Residents
In a competitive bidding process, the DOEE selected the DC Sustainable Energy Utility (DCSEU) and its parent company VEIC to investigate residential electrification by designing and implementing a pilot program for single family homes and smaller multifamily buildings in the District. With experience employing pilot tests to identify and refine new approaches and best practices, and more than a decade bringing the benefits of clean energy to all of DC's communities, VEIC and the DCSEU were a natural choice for this effort.
A key component of the pilot was to ensure that fuel switching measures delivered benefits to residents, utilities, and the environment without increasing costs or pollution. Electrification is considered 'beneficial' when it meets one or more of the following conditions without adversely affecting the other two: 1) Saves consumers money over the long run; 2) Enables better grid management; and 3) Reduces negative environmental impacts.
Guided by these foundational principles, the pilot program solicited participation from income-qualified households (80% of area median income or less) and set out to deliver beneficial electrification (BE) by replacing fossil fuel HVAC, hot water, and cooking systems with high efficiency electric equipment and appliances. Ten homeowners enrolled in Phase I of the Low Income Decarbonization Pilot.
To ensure proper sizing and efficient operation of all new equipment, the first step in every home was an energy audit. Based on these results, an implementation contractor weatherized and insulated the home, performed necessary electrical system upgrades, and installed the new appliances and equipment. Participants also enrolled in the Solar for All program so that the electricity used by the new equipment was offset by solar generation.
Every home required some electrical upgrades, and all but one also required weatherization. Once the work was complete, a second quality control audit ensured safety and proper installation.
Identifying Best Practices for Program Delivery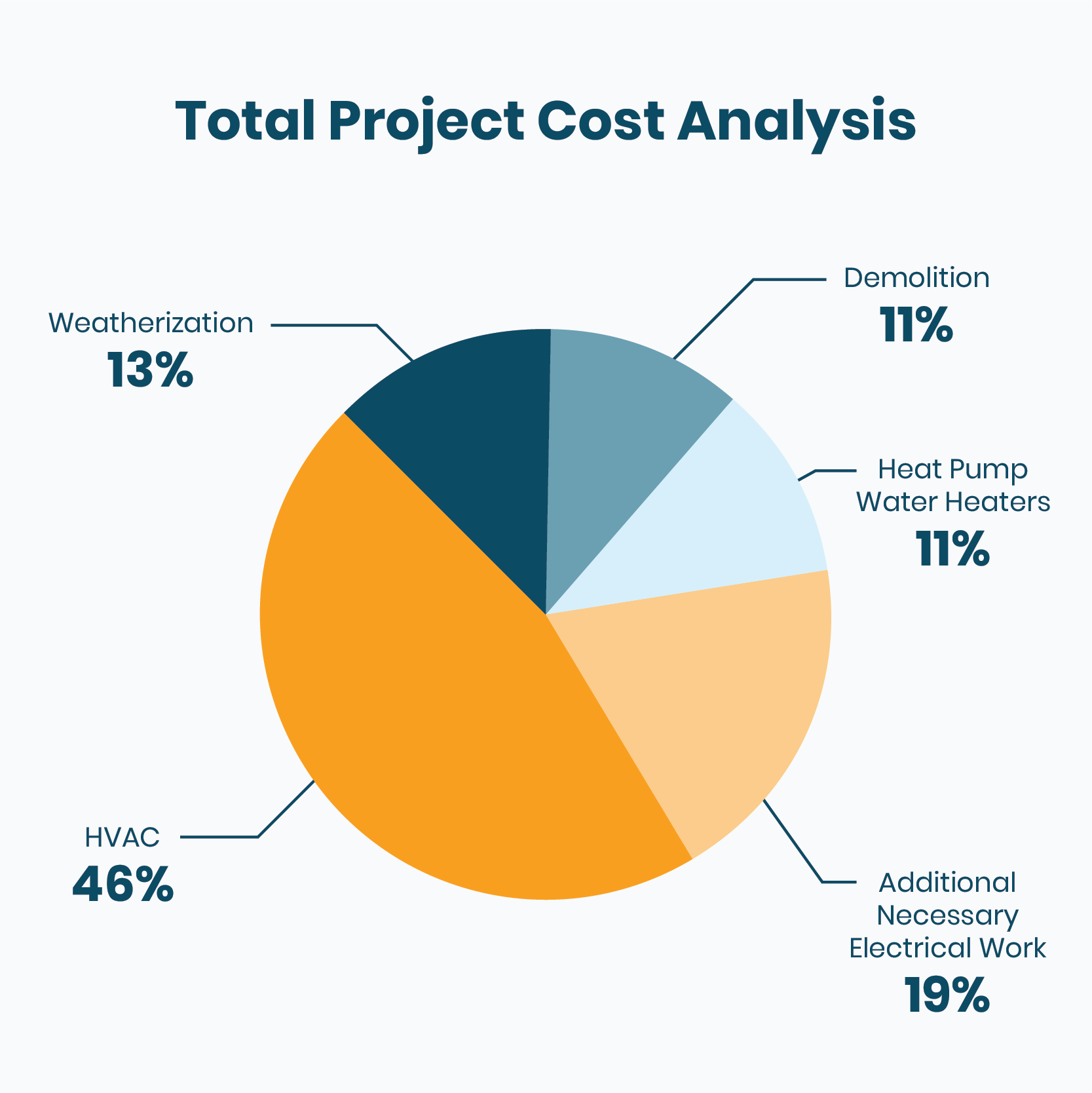 As a first-of-its kind demonstration project, results from Phase I of the Low-Income Decarbonization Pilot were inspiring. Participants reported greater comfort, improved indoor air quality, and more manageable utility bills. The ten homes electrified in the initial study have reduced annual GHG emissions [C02e] by 31.9 metric tons, the equivalent of not burning 35,305 pounds of coal every year.
Most importantly, the pilot provided critical insights that can inform scalable building electrification programs in DC and elsewhere. From building typologies that identify the most cost-effective use cases to contractor and participant screening methods, and ways to mitigate bill impacts and achieve economies of scale—this pilot expanded industry understanding of best practices for achieving residential building electrification in low-income communities. As states begin to plan how to implement the funding from the Bipartisan Infrastructure Law and Inflation Reduction Act, lessons from the Low Income Decarbonization Pilot can act as a roadmap for bringing beneficial electrification to the people who can benefit most from it. Read the full report here.