A little bit about Elizabeth
Elizabeth Palchak,
Sr. Consultant, Energy Services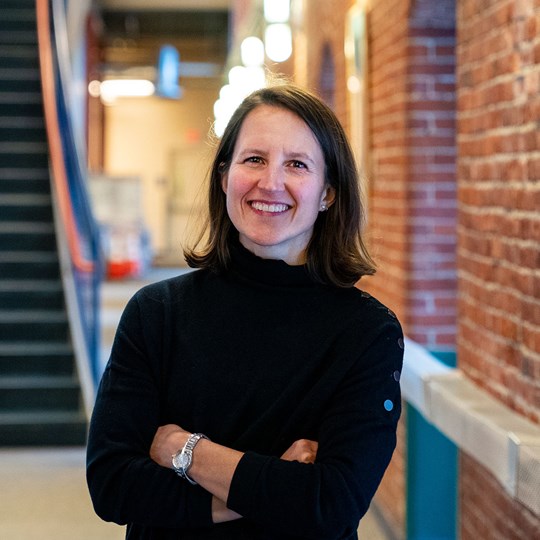 My day most often
There's a lot of diversity in my work and VEIC is a very collaborative place, so I spend a lot of time in meetings. This week I was on an energy justice panel at the University of Michigan with some incredible social justice and industry leaders. On a single day, I might contribute to an experimental design to capture behavioral outcomes in a utility program, work on a proposal and coach college students on the design of an energy competition on campus.
Best advice I've received
Early in my career, I advocated for integrating climate change education into the graduate curriculum at a school in Wyoming - not a state known for its progress on this topic. My supervisor fully supported me and said, "we will get there, but it is going to take many, many conversations with many different people." We did get there. I became the first Sustainability Coordinator in the school's history and I learned that's part of how change happens; many, many conversations with many different people.
Hypothetical dinner party guests
Samantha Power (former ambassador to the U.N.) and Cass Sun stein (behavioral scientist) are married, so maybe they can count as one. Also, Chimamanda Ngozi Adichie and Ta-Nahesi Coates are two writers I'm reading right now who blow my mind almost daily. That would be an awesome dinner party!
When I am not working
My husband and I are avid backcountry skiers and mountaineers, we have many bikes and a sailboat. I spend a lot of time on Vermont's trails, running and hiking with friends, which is incredibly grounding during difficult times. I'm also trying to read a lot, particularly about the history of racism in this country.
The people I work with
There are many brilliant people at VEIC who are passionate about their work in the clean energy industry. And they make deliberate lifestyle choices to reduce climate impacts. There is a focused, professional vibe here, but we play hard too. When we're working from the office, lots of us pop out at lunch for runs and walks. Many folks bike to work. It's a work hard, play hard culture.